About Us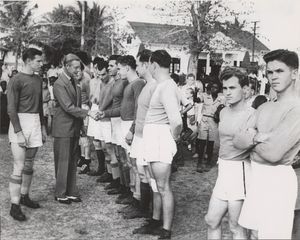 Lightbourne Marine grew from Earthmovers, Ltd., a heavy equipment and marine construction business started by Paul Lightbourn in 1958.
Paul, born in 1917, was an athletic man who swam for the Bahamas in international competitions and was Captain of the "Red Shirts Rugby Team" in the 1930's.
In the summer of 1952, Paul, his wife Minerva, and infant son Terrance now president of Lightbourne Marine were traveling from Spanish Wells, Eleuthera to Nassau on a mail boat, the M/V Zelma Rose. The boat capsized in rough seas at night in Six Shilling Channel and many souls perished.
In the ensuing chaos Paul had to dive down into the stricken vessel to search for 18 month old baby Terrance, who was trapped inside a cabin underwater. Miraculously after the third attempt he was able to find his foot and pull him out of the wreck. He rebuffed those who wanted to toss the lifeless child out of the life boat to make space for other victims in the water and Paul's stubbornness paid off as Terrance came to a couple of hours later and asked for piece of chewing gum. From then on his son carried the nickname "Shipwreck Terrance".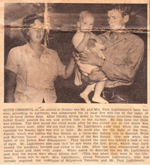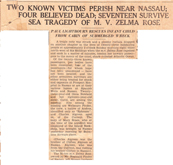 After college, Terrance worked part-time with his father at the Earthmovers shop on Wulff Road, lovingly referred to as "The Shed". After the Bahamas Independence in 1973, opportunities in the construction field were dwindling, but Paul continued to operate the tractor part of the business, fiercely resisting the laying off of his operators who had become like family. However, by the mid '70's it became evident that diversification was necessary for the Company to survive and prosper in the long term.
Like many Bahamians the Lightbourne family were boating and fishing enthusiasts. It was only natural that in 1978 Terrance suggested they put their family's prime harbour front property on East Bay Street to good use by building a full service marine supply business; and on February 1, 1979 Lightbourne Marine opened its doors to the public.
Since then Terrance and his wife Jane, with a core group of dedicated staff have run a thriving company. Today they continue to own, operate and expand the business with the help of their youngest daughter, Rachel, now the third generation Lightbourne to embrace the family business.
The Generator Depot sector of Lightbourne Marine was established in 1985 when it further diversified by becoming the official distributor of Kohler Power Systems for the Bahamas. A superior product at competitive pricing, personal service, timely spare parts management, and experienced factory trained service technicians have made Lightbourne Marine a major force in the generator business. See Rachel or Jane Lightbourne for quotes, information and prices.
Another unmistakeable fact about Rachel; she was born to fish. She is the International Game Fishing Association representative for Nassau, puts on the Annual Lightbourne Marine Wahoo Challenge, a widely anticipated offshore, high speed, trolling tournament held each winter, now in its ninth year, and she is a strong advocate for conserving our marine resources for the future. If you want the inside scoop on all things fishing, what's hot and where the fish are biting Rachel is one to see.
The IGFA Conservation Awards honor those individuals, representatives, organizations, and corporations who have made significant and outstanding contributions to the cause of conservation in the freshwater, saltwater, and fly fishing communities. Nominations for the awards may come from the IGFA?s Fisheries Conservation Committee (FCC) as well as Trustees, Representatives, and IGFA members.
The IGFA Conservation Award to an IGFA Representative goes to:   Rachel Lightbourne of the Bahamas
Although Rachel has only been an IGFA Representative since 2008, she is extremely active.  When the Bahamian government was considering allowing commercial purse seining which would have been disastrous for a number of recreational fisheries, Rachel participated in Town Hall and Government meetings, carrying the IGFA torch and relaying good science-based information on the negative consequences of purse seining.  Additionally, Rachel has worked tirelessly in the Bahamas to help eradicate the invasive lionfish that has become established there.  We are honored to have Rachel here with us tonight to accept this award.
Finally in 2006 the company welcomed Maryann McSweeney on board as Operations Manager. The marine business was a natural fit for Maryann, an ex-Offshore Super Boat racer with an insatiable need for speed. Her love of boats, knowledge and passion for big motors makes her an "authority" in the boating world and a champion of Mercury Marine Power. Maryann's a great resource whether you're a novice just looking for a boat to take the family to the beach or an experienced boater preparing to upgrade. Go to her for guidance!